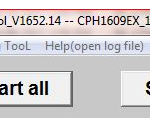 Oppo F3 CPH1609 Flash File
Oppo F3 CPH1609 Flash File
Oppo F3 CPH1609 Flash File (Stock ROM) Download and Flashing Guide with Oppo Tool
Introduction
The Oppo F3 CPH1609 is a popular Android smartphone known for its sleek design and impressive camera capabilities. However, like any electronic device, it may encounter software-related issues over time. If you're facing problems such as frequent crashes, slow performance, or a bricked device, flashing the Stock ROM can often resolve these issues. This guide will walk you through the process of downloading the Oppo F3 CPH1609 Flash File (Stock ROM) and flashing it onto your device using the Oppo Tool.
What is a Stock ROM?
A Stock ROM, also known as a firmware or factory image, is the original operating system and software package that comes pre-installed on your Android device. It contains all the necessary files and software required for your device to function correctly. Flashing the Stock ROM essentially means reinstalling the official software on your device, which can help resolve a wide range of software-related problems.
Why Flash a Stock ROM?
Here are some common reasons to flash a Stock ROM on your Oppo F3 CPH1609:
Software Issues: If your device is plagued by software glitches, random reboots, or app crashes, flashing the Stock ROM can help eliminate these problems.
Bricked Device: If your phone is stuck in a boot loop or fails to boot at all, flashing the Stock ROM can often revive it.
Malware or Viruses: If your device is infected with malicious software that cannot be removed through regular means, a fresh installation of the Stock ROM can clean your device.
Performance Problems: If your phone has become slow and unresponsive, flashing the Stock ROM can provide a performance boost by removing unnecessary software and data.
Custom ROM Removal: If you've previously installed a custom ROM and want to return to the device's original software, flashing the Stock ROM is the way to go.
Before You Begin
Before you proceed with flashing the Oppo F3 CPH1609 Stock ROM, it's important to take some precautions:
Backup Your Data: Flashing the Stock ROM will erase all data on your device. Make sure to back up your contacts, photos, videos, and any other important files to an external storage device or cloud service.
Charge Your Device: Ensure that your phone has sufficient battery life to complete the flashing process without interruption. Ideally, your battery should be at least 50% charged.
Download Required Files:

Oppo F3 CPH1609 Stock ROM
Oppo Flash Tool
A USB cable
A Windows PC
Downloading the Oppo F3 CPH1609 Stock ROM
Visit the official Oppo website or a reputable source to download the Stock ROM for your specific model (Oppo F3 CPH1609).
Ensure that the downloaded file is in the correct format and compatible with your device.
Flashing the Oppo F3 CPH1609 Stock ROM
Now, let's proceed with the flashing process:
Install the USB Drivers for your Oppo F3 CPH1609 on your Windows PC.
Extract the downloaded Stock ROM file to a folder on your computer.
Download and install the Oppo Flash Tool on your PC.
Launch the Oppo Flash Tool.
Power off your Oppo F3 CPH1609.
Connect your phone to the PC using a USB cable while it's powered off. The Oppo Flash Tool should recognize your device.
In the Oppo Flash Tool, click on "Load Scatter File" and locate the scatter file in the extracted Stock ROM folder. The scatter file contains information about how to flash the firmware onto your device.
Click the "Download" button in the Oppo Flash Tool to start the flashing process. This will begin installing the Stock ROM on your device.
Once the flashing process is complete, you will see a green tick in the Oppo Flash Tool, indicating a successful flash.
Disconnect your device from the PC and power it on. It may take a bit longer to boot up the first time as it configures the new firmware.
Conclusion
Flashing the Stock ROM on your Oppo F3 CPH1609 can resolve a variety of software-related issues and restore your device to its factory state. However, it's essential to follow the instructions carefully and back up your data before proceeding. If you're unsure about any step, consider seeking assistance from a professional or trusted source.
Please note that flashing your device carries some risks, and if done incorrectly, it can potentially lead to a bricked phone. Proceed with caution, and make sure you have all the necessary files and tools before starting the process.